Human Resources/Payroll/Office Clerk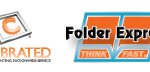 Calibrated Forms
Printing
Human Resources/Payroll/ Office Clerk- Columbus, KS
Now hiring for friendly, outgoing individual with the ability to communicating  effectively in both written and orally format.  This applicant will need good computer skills and familiarity with most office programs.  Analytical abilities and aptitude in problem solving are also valued skills.  Experience preferred but not necessary- all employees receive training for their positions.
Compensation will be based on experience or relative comparative skills.
Contact Amanda Messer 800-237-7576 or email: amanda_messer@ennis.com for additional information.